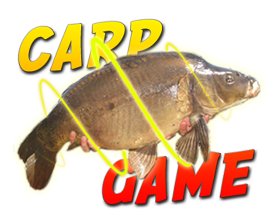 Google+
Testimonies
"Fun, realistic and terribly addicting!"
The new york time
"Finally a good carpfishing game."
B. Gates
FAQ
How to sign in?
If you want to play carpgame, just go there and create a new character.
You need a name, password and a email. if you lose your password, we will send you another one on this email adress.
Then you select one of the 4 characters that you see. their skills are differents, so try to choose one that you like.
Finally you arrived on Your info page. There is all you need to know about your character on this page.
Now what you need, is to go fishing.
How to play the game?
You have a long road ahead to become the best angler of Carpadia!
You will need to catch massive carp, break records and win competitions... without spending too much.
First you should go to La Mare, it's easy and you only need corn and mono rigs to get your first fish.
On every lake you can check the depth, try to get tips and infos, it's free. You can also prebait the swim, but you'll need money for that!
If you need baits or rigs, or anything, go to the shop.
When you are fishing, select your bait, rig and eventually pop up, dip and pva, then you cast your 3 rods.
Try to get as many fish as possible.
You win XP for every fish caught, but you get more when you have a record.
You earn money every 7 sessions (144h), or you when your published in The magazine.
Frequently asked questions.
Here are frequent questions:
- I can't move to the next lake. -> If you want to go far, you need to click on every stop of the trip, not directly on your final destination.
- I improve my gear, but my line continues to often snap -> Some spots will break your line, even with high capacities and gear.
- I catch too many small fish, despite the fact that my gear and tackle are good. Your skills don't make everything in your results. Some spots, some lakes and baits are small fish magnet.
- I cannot access every lake. The development of this game is still in progress, please be patient.

Odd things
The game react differently, depends on your device and navigator:
- I can't click on the lake to cast my bait in -> You must use an old version of Internet Explorer, or an ancient android browser. Try to install a different one.
- The blue dot of the second rod is stuck in the top left corner. -> Display error. Don't worry, your rod is fishing where you clicked.
- I click on the bank, and it works. If the dot of the rod is not in the lake, the system make your bait fish in the closest lake spot.
- When i try to play a duel, I end up on a blank page. Try to wait for new sessions before you play duels.

And if you are very curious, you can try to do:
up up down down laft right left right
with the arrows of your keyboard.